---
This was not the best of years, that  is for sure. Let us call it a big transition year that included a huge roller-coaster ride that lasted not seconds but months. A bit longer that what is probably really needed. Yet, I was able to some how see 144 films. That is almost 10% less than last year and over 17% below the 2012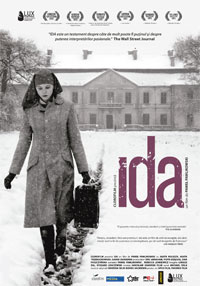 peak. Still, it is not a bad number if we bear in mind that an average of 700 or so films are official release in the US on an annual basis.
In terms of films, this was not either a very good one if we compare it to the 2013 or 2012. One of the films that I saw and  actually liked a lot was not really considered by mainstream media or placed into many best films of the year. The film, The Launchbox from India, is a simple film about ordinary life where food, love and loneliness in a very crowded urban setting (Mumbai) can furnish the necessary ingredients to make for a very unique story.
As before, my film selection is presented in the order that I saw them on the screen. No rankings are intended but readers are welcome to do so,to films and leave that to the reader.
So without further ado, here is my list of favorites:
Gloria – Sebastián Lelio (2013, Chile
The Lunchbox – Ritesh Batra (2013, India)
Ida – Pawel Pawlikowski (2014, Poland)
Blue Ruin – Jeremy Saulnier (2014, US)
Violette – Martin Provost (2013, France)
Boyhood – Richard Linklater (2014, US)
Two days, one night – Jean Pierre/Luc Dardenne (2014, Belgium)
CitizenFour – Laura Poitras (2014, US)
Force Majeure – Turist – Ruben Östlund (2014, Sweden)
Whiplash – Damien Chazelle (2014, US)
Goodbye to Language – Jean-Luc Godard (2014, France)
Selma – Ava DuVernay (2014, US)
Mr. Turner – Mike Leigh (2014, UK)
Worth seeing:
The Past – Ashgar Farhadi (2013, Iran)
The Invisible Woman – Ralph Fiennes (2013, UK)
7 Boxes – 7 Cajas – Juan Carlos Maneglia / Tana Schembori (2012, Paraguay)
Omar – Hany Abu-Assad (2013, Palestine)
The German Doctor – Wakolda – Lucia Puenzo (2013, Argentina)
Finding Vivian Maier – John Maloof , Charlie Siskel (2014, US)
Brother – Hermano – Marcel Rasquin (2010, Venezuela)
The Immigrant – James Gray (2013, US)
Belle – Amma Asante (2013, UK)
Tracks – John Curran (2013, Australia)
The Blue Room – Mathieu Amalric (2014, France)
West – Christian Schwochow (2013, Germany)
Gone Girl – David Fincher (2014, US)
Wild Tales – Relatos Salvajes – Damián Szifrón (2014, Argentina)
The Imitation Game – Mottem Tyldum (2014, Norway)
Catching up (some I missed in the past, some seeing gain):
Stalingrad – Various German Directors (2003, Germany)
Cairo Exit – Hesham Issawi (2011, Egypt)
Rosario Tijeras – Emilio Maillé (2005, Mexico)
Leonera – Lion's Den – Pablo Trapero (2008, Argentina)
John Rabe – Florian Gallenberger (2009, Germany)
Chinese Take-out – Un cuento chino – Sebastián Borensztein (2011, Argentina)
The Maid – La Nana – Sebastian Silva (2009, Chile)
Habana Blues – Benito Zambrano (2005, Spain)
Russian Ark – Aleksadr Sokurov (2002, Russia)
Carancho – Pablo Trapero (2010, Argentina)
Moneyball – Bennett Miller (2011, US)
Los Girasoles Negros – Blind Sunflowers – José Luis Cuerda (2008, Spain)
Classics revisited:
Jamon, Jamon – Bigas Luna (1992, Spain)
Clash by Night – Fritz Lang (1952, US)
Shanghai Triad – Yimou Zhang (1995, China)
Black Rain – Shohei Imamura (1989, Japan)
Matador – Pedro Almodovar (1986, Spain)
Gallipoli – Peter Weir (1981, Australia)
Four bags Full – La traversée de Paris – Claude Autant-Lara (1956, France)
DOA – Rudolph Maté (1950, US)
Casque D'or – Jacques Becker (1952, France)
Les Tricheurs – Youthful sinners – Marcel Carne (1958, France)
Laura – Otto Preminger (1944, US)
The Criiminal Code – Howard Hawks (1931, US)
The Gold Rush – Charles Chaplin (1925, US)
Blue Velvet – David Lynch (1986, US)
Death Rides a Horse – Giulio Petroni (1967, Italy)
Night Train – Jerzy Kawalerowicz (1959, Poland)
In the Cool of the Afternoon – Robert Stevens (1963, UK)
A Short Film about Killing – Krzysztof Kieslowski (1988, Poland)Marnie – Alfred Hitchcock (1964, UK)
In This Our Life – John Houston (1942, US)
Something of Value – Richard Brooks (1957, US)
Cheers, Raúl