---
Stopping a declining trend, I saw 140 films this year. That is about 40 more than last year. One big change to note here: For the first time, I watched more than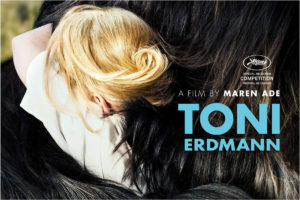 50% of films either online and/or on DVD. This is probably a reflection of increased competition as now we have many more players that just Netflix in the sector. For example, the wonderful Criterion Collection DVD outfit launched its own online channel just before the end of the year. Expect many other to jump into the fray.  Nevertheless, I still believe nothing can really beat going to see a film in a theater.
As with previous years, many supposedly "good" films were launched towards the end of the year. I did not have the time to watch them all so I will probably have those in my next year's list if they are indeed as good as some say. I saw one of my favorite films, Tony Erdmann, today, the last day of the year.  Others such as Neruda, Patterson, Kaili Blues, and Things to Come are still waiting for me.
Films are listed according to the date I saw them and thus do not suggest any sort of ranking.
I could probably name 3 or 4 that I really really liked but not sure that makes a big difference. Just watch them all (and more!), if you have the time.
Best films:
Mustang – Deniz Gamze Ergüven (2015, Turkey)
Li'l Quinquin – Bruno Dummont (2014, France)
Francofonia – Aleksandr Sokurov (2015, Russia)
Mountains May Depart – Jia Zhangke (2015, China)
Ixcanul – Volcano – Jayro Bustamante (2015, Guatemala)
Hell or High Water – David Mackenzie (2016, US)
A Man Called Ove – Hannes Holm (2015, Sweden)
The Handmaiden – Chan-wook Park (2016, South Korea)
Aquarius – Kleber Mendonça Filho (2016, Brazil)
Loving – Jeff Nichols (2016, US)
Manchester by the Sea – Kenneth Lonergan (2016, US)
Elle – Paul Verhoeven (2016, Netherlands)
Toni Erdmann – Maren Ade (2016, Germany)
Recommended:
Bajirao Mastani – Sanjay Leela Bhansali (2015, India)
Theeb – Naji Abu Nowar (2014, Jordan)
Breathe – Melanie Laurent (2014, France)
El Clan – Pablo Trapero (2015, Argentina)
A Bigger Splash – Luca Guadagnino (2015, Italy)
Indignation – James Schamus (2016, US)
Dheepan – Jacques Audiard (2015, France)
American Honey – Andrea Arnold (2016, UK)
Moonlight – Barry Jenkins (2016, US)
Nocturnal Animals – Tom Ford (2016, US)
Krisha – Trey Edward Shults (2015, US)
Right Now, Wrong Then – Sang-soo Hong (2015, South Korea)
Christine – Antonio Campos (2016, US)
Catching up (seeing the ones I missed in the past):
Pure – Lisa Langseth (2009, Sweden)
Somersault – Cate Shortland (2004, Australia)
Nanking – Bill Guttentag / Dan Sturman (2007, US)
Borgman – Alex van Warmerdam (2013, Holland)
Karla – Joel Bender (2006, Canada)
Falling Flowers – Jia Zhangke (2012, China)
Cannibal – Manuel Martín Cuenca (2013, Spain)
Rock, Paper, Scissors – Piedra, papel o Tijeras – Henan Jabes (2012, Venezuela)
Los Insolitos Peces Gato – The Amazing Catfish – Claudia Sainte-Luce (2013, Mexico)
Some oldies revisited:
La Pointe Courte – Agnes Varda (1955, France)
Kiss Of Death – Henry Hathaway (1947, US)
Murder, my sweet – Edward Dmytryk (1944, US)
Lost Boundaries – Alfred L. Werker (1949, US)
No Way Out – Joseph L. Mankiewicz (1950, US)
The American Friend – Win Wenders (1977, Germany)
Alice in the Cities – Wim Wenders (1974, Germany)
Wrong Move – Win Wenders (1975, Germany)
Cries and Whispers – Ingemar Bergman (1972, Sweden)
Blowup – Michelangelo Antonioni (1966, Italy)
F is for Fake – Orson Wells (1973, US)
Persona – Ingmar Bergman (1966, Sweden)
Death of a Cyclist – Muerte de un Ciclista – Juan Antonio Bardem (1955, Spain)
Peppermint Frappe – Carlos Saura (1967, Spain)
Fires on the Plane – Kon Ichikawa (1959, Japan)
Fear – Roberto Rossellini (1954, Italy)
An Enemy of the People – Ganashatru – Satyajit Ray (1990, India)
A Patch of Blue – Guy Green (1965, US)
La Kermesse Heroique – Carnival in Flanders – Jacques Feyder (1935, France)
I Knew Her Well – Antonio Pietrangeli (1965, Italy)
The Scar of Shame – Frank Peregini (1927, US)
Wait until dark – Terence Young (1967, US)
Umberto D. – Vittorio de Sica (1952, Italy)
Cheers, Raúl