---
My film viewing trend continued to decline this year, now down to 158. This is just a fall of close to 7% which is probably not very significant. But this year I faced some health issues which prevented me from actually going to film theaters. In early March I broke a tiny bone in my ankle. That took almost 6 months to heal so walking was a bit of a challenge. Then in November I fell on my face and, as reward for being such cluts, fractured my right elbow (yep, I am right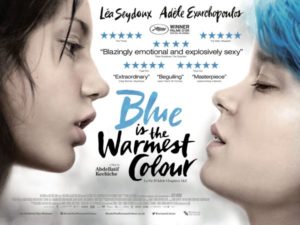 handed so that was a bit of a nightmare, especially when it came to replying to business emails!). In any case, online, on demand, and DVD viewing did come very handy under the circumstances.
Viewing patterns however did not change much. Weekends continued to be the preferred choice for catching films: 75% of all the films I watched this year happened on Saturday or Sunday. I suppose the fact that I was working from home during weekdays while disabled  partly explain the persistence of this pattern. No big mystery here.
As with previous years, my selection of favorite films is presented in the order that I saw them. I do not assign rankings to films and leave that to the reader.
Some of the films below might not have been officially released in the US. And some that were might be missing because I could no see them before the end of the calendar year.
Anyways, here is the list:
Holy Motors – Leos Carax (2012, France)
Hannah Arendt – Margarethe Von Trotta (2012, Germany)
Stories We Tell – Sarah Polley (2012, Canada)
Frances Ha – Noah Baumbach (2013, US)
The Hunt – Thomas Vintenberg (2012, Denmark)
Fruitvale Station – Ryan Coogler (2013, US)
The Grandmaster – Won Kar Wai (2013, China)
The Act of Killing – Joshua Oppenheimer (2012, US)
A Touch of Sin – Jia Zhangke (2013, China)
Wadjda – Haifaa Al-Mansour (2012, Saudi Arabia)
12 Years a Slave – Steve McQueen (2013, UK)
Bastards – Les Salauds – Claire Denis (2013, France)
Blue is the Warmest Color – La Vie d'Adele – Abdellatif Kechiche (2013, France)
The Great Beauty – La Grande Bellezza – Paolo Sorrentino (2013, Italy)
Worth seeing:
Like being in love – Abbas Kiarostami (2012, Iran)
Renoir – Gilles Bourdos (2012, France)
Post Tenebras Lux – Carlos Reygadas (2012, Mexico)
Before Midnight – Richard Linklater (2013, US)
Short Term 12 – Destin Cretton (2013, US)
Camille Claudel, 1915 – Bruno Dumont (2013, France)
The Dallas Buyers Club – Jean-Marc Vallée (2013, US)
Philomena – Stephen Frears (2013, UK)
Inside Llewyn Davis – Ethan/Joel Coen (2013, US)
Prisoners – Denis Villeneuve (2013, Canada)
Catching up (some I missed in the past, some seeing gain):
Donoma – Djinn Carrénard (2010, Haiti/France)
13 Roses – Las 13 Rosas – Emilio Martínez Lázaro (2007, Spain)
Primer – Shane Carruth (2004, US)
Lumumba – Raoul Peck (2000, Haiti)
In the Mood for Love – Wong Kar-Wai (2000, China)
Illegal – Olivier Masset-Depasse (2010, Belgium)
Private Property – Nue Propriete – Joachim Lafosse (2006, Belgium)
Irreversible – Gaspar Noé (2002, France)
The Stolen Man – El Hombre Robado – Matías Piñeiro (2007, Argentina)
They all lie – Todos Mienten – Matías Piñeiro (2009, Argentina)
Los Bastardos – Amat Escalante (2008, Mexico)
El Niño Pez – The Fish Boy – Lucia Puenzo (2009, Argentina)
Del Amor y Otros Demonios – Of love and other Demons – Hilda Hidalgo (2009, Colombia)
No Return -Sin Retorno – Miguel Cohan (2010, Argentina)
Classics revisited:
Little Fugitive – Ray Ashley-Morris Engel-Ruth Orkin (1953, US)
Made in USA – Jean- Luc Goddard (1966, France)
Coup de Torchon – Bernard Tavernier (1982, France)
Le Petit Soldat – Jean-Luc Godard (1963, France)
Amarcord – Federico Fellini (1973, Italy)
Black Girl – Ousmane Sembene (1966, Senegal)
Un Flic – Jean Pierre Melville (1972, France)
Sidewalk Stories – Charles Lane (1989, US)
Mountain Justice – Michael Curtiz (1937, US)
Cheers, Raúl